Icon:

Function: SalesForceIn
Property window: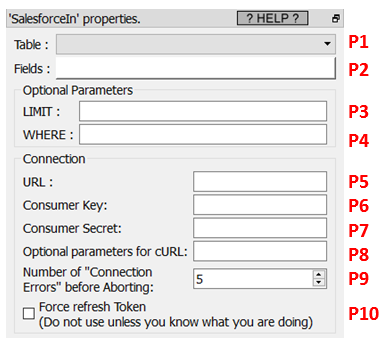 Short description:

Download data from Salesforce.
Long Description:

This Action also works when accessing the web through a PROXY server: Please consult the section 5.1.9.2. for more details on how to setup the parameter P8 for web-access through a PROXY server.
To use this Action, you'll need to get several parameters from Salesforce:

•your "URL" (parameter P5)
•your "Consumer Key" (parameter P6)
•your "Consumer Secret" (parameter P7),

See the next section (section 5.23.25.1) on how to get these 3 parameters.
Once you have completed the "setup process" described in the section (i.e. in the section 5.23.25.1), you can use the parameters P1, P2, P3, P4 to select the data to extract from your Salesforce system.

The parameter P3 is a number that defines how many rows of data will be downloaded from Salesforce (this is mostly usefull only for testing, the first time that you connect to Salesforce).
The parameter P4 is the WHERE Clause of the SOQL statement. For more details about SOQL statements, see here:
https://developer.salesforce.com/docs/atlas.en-us.soql_sosl.meta/soql_sosl/sforce_api_calls_soql_sosl_intro.htm
If the parameter P4 is left empty, Anatella downloads all the records (i.e. there is no filter).