Icon:

Function: jiraQueryIssues
Property window: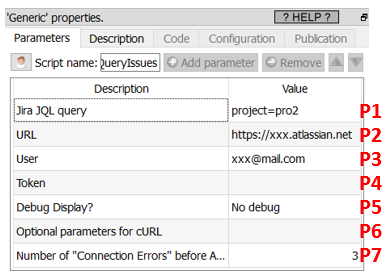 Short description:
Download issue-related data from a Jira server using a JQL query.
Long Description:

This Action also works when accessing the web through a PROXY server: Please consult the section 5.1.9.2. for more details on how to setup the parameter P6 for web-access through a PROXY server.

The parameter P1 is the Jira JQL query executed on your Jira Server. For more information about the JQL syntax, please refer to this webpage:
https://www.atlassian.com/software/jira/guides/expand-jira/jql

All the parameters of this Action are self-explanatory with the exception of the parameter P4: it's the "Jira token": refer to the previous section 5.23.79.1. to known how to get your "Jira Token".