Icon:

Function: zohoDownload
Property window: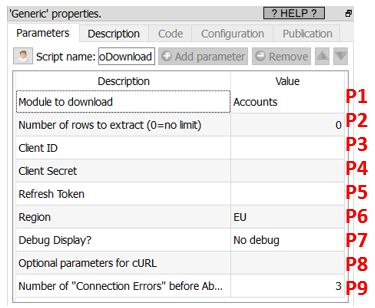 Short description:
Download Data from Zoho CRM.
Long Description:
This Action also works when accessing the web through a PROXY server: Please consult the section 5.1.9.2. for more details on how to setup the parameter P8 for web-access through a PROXY server.
Before downloading data from Zoho CRM with Anatella, you need to get the 4 parameters:
•Client ID (Parameter P3)
•Cient Secret (Parameter P4)
•Refresh Token (Parameter P5)
•Region (Parameter P6)
…from the ZohoCRM website. Please refer to the previous section 5.23.44 for the exact procedure to get these 4 parameters.